Rent A Car in Cox's Bazar
Monthly Deal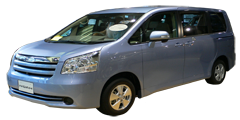 Toyota NOAH
2011/12 Model, 7 Seats,AC
Terms & Conditions :
Working Days: 26 days for a month considering Friday or Saturday off.
Extra uses charge: After 26 days, each extra day of that month will be charged as 3000 Tk/day.
Over Time: After 10 hours of duty, Driver's overtime needed to be paid by the renter 50 Tk/hour.
Driver food allowance: 100Tk/day.
Fuel Cost (CNG/Octane): Renter will bear the total fuel cost by themselves or can pay us per kilometer wise. Rate will be as per market standard.
Daily vehicle usage log sheet will be maintained and renter has to give signature at the end of the day.
Renter will pay all Bridge Tolls/Ferry/Parking Charges.
Renter has to pay for 30 liters of octane or equivalent of money every month.
Renter has to pay the fuel cost of Garage to office & vice versa.
This rental car will be used for travelling inside and nearby Dhaka city. In case of traveling outside (other district), renter will pay driver tour allowance Tk.1000 per day.
We cannot provide the car during the time of political strike and Natural disaster.
Payment will not be affected or reduced for political strike and Natural disaster. It will remain same.
Payment Method:
All Payment must be cleared between 45th days either by cash or bank draft in favor of GARIVARA.COM.BD
This rate is including driver's salary.
Eid holiday: 3 to 5 days. As per Govt. rule.
GPS device (Optional) can be installed in the vehicle. Monthly Fee: 500Tk.
Vehicle Maintenance or any kind of repairing cost will be beard by Car Rental Company.
This rate includes no insurance coverage for the passengers.
This car will be driven by Car Rental Company's designated driver.
This vehicle will be parked at night Car Rental Company's designated parking area.
If any illegal goods are found in renter's luggage's then GariVara.com.bd, this car and owner of this car will not be responsible. Renter has to take all liabilities.